Breast Augmentation
Conveniently located to serve the areas of Miami, FL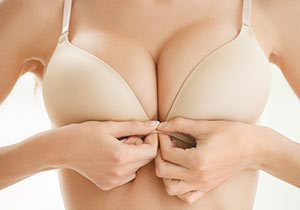 Breast augmentation is a surgical procedure that increases the size of a patient's breasts. If you feel that your breasts are too small for your liking or have lost fullness due to pregnancy, breastfeeding, or weight loss, breast augmentation can help you achieve the breast size of your choice. Breast augmentation remains among one of the most frequently performed cosmetic surgeries in the United States, and worldwide. And, there's a good reason for that! Studies show that women that have chosen to undergo an augmentation, or "boob job" have improved confidence, body image, better sex lives, and overall relationships. (1)
Breast augmentations are performed using a fat transfer or the placement of breast implants. Breast implants are made of a silicone shell and filled with either silicone gel or a sterile saline solution. Silicone gel breast implants are the most popular choice, especially with the new "gummy bear" model of implants that hit the U.S. market in 2012. Although both implants and fat tissue can create the look and feel of natural breasts, both have their own set of pros and cons that you should consider before making a final decision. But why choose? These procedures can often be combined for the ultimate in voluptuous volume.
At Miracle Mile Cosmetic Surgery Center, we help women from Miami and beyond get the beautiful set of breasts they've always wanted so that they can live life with the confidence they deserve. Board-certified plastic surgeons of Miracle Mile Cosmetic Surgery Center deliver world-class results and compassionate care. To learn more about what a breast augmentation can do for you, call (305) 901-2388 to contact our offices and schedule a personal consultation today.
Before and After Photos
All About Breast Implants
Breast Implant Material
The two types of breast implants available today are silicone and saline breast implants. Both have a silicone shell that is either smooth or textured. They also come in various sizes and in either a round or teardrop shape. Saline breast implants are inflated with a sterile saltwater solution after the hollow shell is placed during surgery. This allows the surgeon to control the final volume of the breast, and a smaller incision to be used. Many women opt for saline implants because in case of a rupture, the harmless saline solution is absorbed by the body. However, the natural feel and variety of options available make silicone implants the most popular choice for breast augmentations. The first fully silicone breast implants were developed in 1961 by Dr. Frank Gerow and Dr. Thomas Cronin.(2) Today, silicone breast implants are fully approved by the FDA, and ongoing technological developments and regulations have made them safer than ever. 
Gummy Bear Implants
Gummy bear implants are currently extremely popular and are a type of silicone-only implant that is filled with a highly cohesive silicone gel. These implants are firmer, and because they hold their shape, they're optimal for women that want more projection. Another reason for their popularity is how durable and stable they are. Because the gel is so firm, there is no chance of leakage in case the outer shell of the implant ruptures. Gummy bear implants feel even more natural than previous models of silicone implants, and they have a teardrop shape to them- giving them an edge over other implants that may look unnaturally round.
Round vs. Teardrop Implants
The shape of breast implants has an important impact on the final appearance of the breasts. Many patients prefer round implants due to how they provide more cleavage and lift.
Women who prefer teardrop, also called anatomical implants, prioritize the natural look. They are structured so that they are thinner at the top and fill out near the bottom- just like a real breast. This shape often requires texture on the outer shell to prevent it from shifting. This type is also ideal for women who want correct sagging breasts without having to undergo a full breast lift.
Choosing Your Implant Size
When choosing your implants, it's important to think of your body's size as a whole. If you are a smaller, shorter woman, or are only looking for a subtle increase in volume, smaller implants will compliment your figure the best. If you are a tall woman with a larger frame, you may need larger implants to get the look that you want.
Surgeons always measure implant size through cubic centimeters (cc) which indicates its total volume. Smaller implants are anywhere between 150 and 200 cc (less than 8 fluid ounces), medium implants are between 300 to 350 cc, and large implants are 400 cc or more. The largest implants that have FDA approval are 800 cc (3 measuring cups). The amount of existing breast tissue a patient has, as well as their desired results, will determine the cc's necessary to acheive their ideal cup size and results. Be aware that cup sizes are different for various bra brands, so be clear with your surgeon about your expectations.
In addition to size and volume, there is the height, or projection, of the implant. Projection refers to how far the largest part of the implant extends from the chest. Thanks to the firm cohesive gel used in gummy bear implants, patients can now opt for high-profile implants with dramatic projection with a smaller base. This is ideal for more petite patients since a smaller "footprint" or base of the implant can fit their smaller chest wall for natural-looking results.
The board Certified surgeons of Miracle Mile Cosmetic Surgery Center can educate you on what these specifications can mean for your future cup size.
About Fat Transfer
Fat transfer breast augmentation is also called fat grafting; it requires the use of liposuction, which is the removal of fat through a thin, surgical tube. The harvested fat is then purified, and injected into the breast to sculpt an enhanced shape and volume. Many women choose the fat transfer procedure because tissue from their own body is used, so it provides a more natural look and feel. It also allows patients to avoid the need for future surgeries, as synthetic breast implants eventually need to be replaced. It also has a relatively low rate of complications and a high rate of patient satisfaction.(1) One downside is that this method can't be performed on just anyone- it requires that the woman has an adequate amount of body fat to harvest. And, there are limits as to how much fat can be placed in the breasts during an augmentation. Not all of the fat placed will graft successfully, and fat transfer can only increase your breasts by about one cup size. 
Benefits of Breast Augmentation
First and foremost, breast augmentation surgery helps women who are looking to enhance their femininity and increase body confidence. For women who have previously battled breast cancer, a breast augmentation can replace lost tissue and/or restore symmetry. If a patient opts for a fat transfer, they not only get the benefit of fuller breasts, but they will have slenderized areas with unwanted fat. Surgical techniques have come a long way in the past few decades. The benefits outweigh the risks for many women who have carefully considered and undergone the procedure. In October 2021, the FDA updated the standards of breast implant manufacturing to improve durability and lower the incidences of complications. (2) 
Candidates
Our surgeons take great care in evaluating who are good potential candidates for breast augmentation. They take many aspects into consideration including but not limited to: overall health, weight, and the patient's expectations. If you're considering this procedure, you should be in good health, a non-smoker or willing to quit for several weeks before and after surgery, and someone who limits their alcohol intake. If you've recently lost a significant amount of weight or are a breast cancer survivor, this procedure may be right for you.
Like other elective surgeries, breast augmentations are not performed on pregnant women. Breast implants don't interfere with your ability to become pregnant in the future, and many women can still breastfeed after a breast augmentation. However, the hormone and weight fluctuations that accompany pregnancy, as well as the demands of breastfeeding, can impact the appearance of your results. Finally, if you are simply unhappy with the size or asymmetry of your natural breasts, this procedure can provide you with the perfect amount of breast volume and firmness that you're looking for.
Personal Consultation
With the medical technology and countless options available now, undergoing breast augmentation is a fulfilling experience for many women. The plastic surgeons of Miracle Mile Cosmetic Surgery Center have over 30 years of combined experience in providing the best possible cosmetic outcomes to all of their patients. Our surgeons are well-equipped to answer all of your questions and concerns. If you are interested in a consultation, please contact us or give us a call at (305) 901-2388 to get yourself scheduled! 
Preparation
Properly preparing for a breast augmentation can help you have an easy, uncomplicated recovery. You may be asked to do a blood test and adjust your medications beforehand. Aspirin and some anti-inflammatories can cause your blood to thin which increases the risk of excessive bleeding. Doctors recommend quitting smoking at least six weeks before surgery. This is because nicotine constricts blood vessels, which can impede the healthy circulation necessary for healing.
You should also figure out who is going to help you through your recovery process. It's important to make arrangements for a trusted adult to drive you home, since you will not be able to drive yourself. You may also want to find someone to assist you with daily chores and meals, since you won't be feeling your best. You'll have limited movement of your arms during the initial stages of your recovery, so be sure to have clothes that are loose, comfortable, and easy to put on.
Procedure
Breast augmentation surgery typically takes 1-2 hours and is performed under anesthesia. General anesthesia is not always required for breast augmentation; sometimes, only local anesthesia along with intravenous sedation can be used. After the anesthesia takes effect and the patient is resting comfortably, your Miracle Mile Cosmetic Center surgeon will begin the surgery. Incision areas are something that you'll have discussed with your surgeon during your consultation.
If implants are chosen, then incisions to place the implants can be made in several different locations. It depends on the type and size of the implant.
Breast augmentation is performed through one of three incisions:
Periareolar (incision is made around the areola)
Inframammary (incision is made along the crease beneath the breasts)
Transaxillary (incision is made within the armpit)
Next, the implant is placed beneath the pectoral muscles (subpectoral placement) or just under the breast tissue (prepectoral placement).
Subpectoral Placement
For women with less overall body fat, placing the implant under the pectoral muscles provides a smoother look. One drawback to this method is that the pectoralis muscle must be partially detached during surgery, so recovery is slightly longer and patients may experience more discomfort.(3) 
Prepectoral Placement
For women with more breast tissue to surround the implant, natural-looking results can be achieved by placing the implant above the muscle. This is also a more ideal position for the implant if the patient is undergoing a breast lift as well. (3) 
Your surgeon will have the knowledge to recommend what will look the best. Sutures, surgical tape, or skin adhesive keep the incision lines closed and clean so that they heal properly. Despite the outdated reputation of breast implants, today's breast implants can last more than a decade, and according to the American Society of Plastic Surgeons, some can last up to 20 years. (4) 
Recovery 
If general anesthesia was used, it will take a few hours for it to wear off. You will be able to go home the same day of the procedure as long as you have someone to transport you. For the first few days after the procedure, take your pain medications as needed and directed by your doctor. You should plan on strictly resting for the first seven days. You will be able to shower after a full day after the procedure, but should avoid swimming pools and submerging the area for six weeks.
Three to four weeks after the operation, you will be able to resume some light exercise. Your doctor will advise you to wear a post-surgical bra for at least the first six weeks. This type of bra is designed to keep your incision lines from becoming irritated and swollen and to support your new breasts. It will also help your body heal correctly and minimize scarring.
Whether it's an implant or fat grafting procedure, our surgeons implement methods to minimize scarring as much as possible. There are also many methods you can use as you're recovering to reduce the appearance of scars. Wearing a properly fitting support bra, applying topical creams, proper care of your incisions as you heal, and taking good care of yourself will ensure a speedy recovery and minimal scarring.
At around six weeks, you should be able to go back to your regular exercise routine and daily activities. As you recover, you'll return to our offices for regularly scheduled follow-up appointments so that we can ensure that you are experiencing an optimal recovery.
Results
Breast augmentation should make you feel voluptuous and sexy! It can help improve problems like asymmetry and lost volume and perkiness from weight loss, breastfeeding, or aging. It can take you a long way in terms of enhancing your overall body contours and proportions, which can significantly help improve your self-image. With an added boost of confidence and more exciting wardrobe choices, you'll be able to enjoy life and everything that comes your way feeling your very best.
Other Procedures
Miracle Mile Cosmetic Surgery Center offers a collection of breast and body contouring procedures, including:
How Much Does a Breast Augmentation Cost in Miami?
There are many factors that contribute to cost, including but not limited to the size and type of implants used, incision techniques and the amount of surgical intervention required to get the desired outcome. At Miracle Mile, we offer some of the most affordable prices for cosmetic surgery in Miami without compromising on quality.
FAQ 
Does breast augmentation work for sagging breasts? 
While this procedure works to provide more fullness and roundness to your breasts, a breast lift surgery might be required to tighten sagging breast tissue and skin. Breast augmentations are often combined with a mastopexies, or breast lift procedures, for a total breast transformation! 
Can I breastfeed after a boob job?
Yes! The placement of implants doesn't necessarily affect a woman's ability to produce milk. The same goes for fat transfer procedures. If an incision line is made near the nipple, however, sometimes, complications can occur. 
How much pain will I be in after a breast augmentation? 
It's normal to expect a moderate amount of pain that is controlled with medications for the first one to two weeks after surgery. Alert your doctor if you're in a severe amount of pain that isn't lessened by medication; this could mean there's an infection. 
Will there be scarring after breast implants? 
Scars are a potential risk of any invasive surgery. At first, your healing incisions will appear very red, thick, and raised. For patients with darker skin tones, it may not be very noticeable at first, but they will gradually darken within a couple of weeks. With proper rest, scar massages as directed by your doctor, proper nutrition, and topical treatments, scars will fade naturally. At about 2 to 3 months, your scars will begin to turn pink, and at around 6 months to a year, they will have faded considerably. 
When can I return to work? 
Depending on the kind of work you do, the answer may be different. If your work doesn't involve strenuous work and excessive use of your arms, you may be able to return within a week. For more physical jobs, it could be up to 2 weeks before you can return. 
References
Kaoutzanis C, Winocour J, Unger J, Gabriel A, Maxwell GP. The Evolution of Breast Implants. Seminars in Plastic Surgery. 2019;33(04):217-223.
Spear SL, Coles CN, Leung BK, Gitlin M, Parekh M, Macarios D. The Safety, Effectiveness, and Efficiency of Autologous Fat Grafting in Breast Surgery. Plast Reconstr Surg Glob Open. 2016;4(8):e827. Published 2016 Aug 8. doi:10.1097/GOX.0000000000000842
Salibian AA, Frey JD, Karp NS. Strategies and considerations in selecting between subpectoral and prepectoral breast reconstruction. Gland Surgery. 2019;8(1):11-18. doi:https://doi.org/10.21037/gs.2018.08.01
Davis D. Will Your Breast Implants Last a Lifetime? American Society of Plastic
Surgeons. Published April 28, 2021. Accessed May 30, 2023. =On%20average%2C%20today's%20implants%20are,for%2020%20years%20or%20moE.